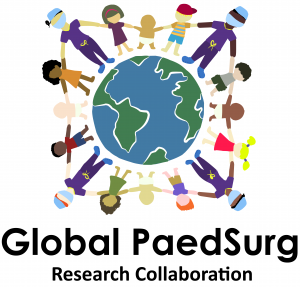 Global PaedSurg Protocol Presentations
Date
Presenter, Name (Study Role)
Conference (Country)
November 2017
Naomi Wright (Principal Investigator)
International Congenital Diaphragmatic Hernia Symposium (Liverpool, UK)
November 2017


Prof Stephen Tabiri (Country Lead for Ghana)
GlobalSurg Conference, Johannesburg, South Africa
December 2017



Naomi Wright (Principal Investigator)
COSECSA Conference (Maputo, Mozambique)
January 2018
Hetal Gohil (Country Lead for Kenya) and Naomi Wright (Principal Investigator)
Global Initiative for Children's Surgery (GICS) III Meeting (Vellore, India)
March 2018
Mahmoud Elfiky (Regional Lead: Middle East, Country Lead: Egypt)
3rd Kuwait Pediatric Surgery Conference joint with the IPEG MEC workshop (Kuwait)
March 2018



Dr Janan Malik (Local Collaborator from Mombasa Kenya)
Kenyan National Surgical Society Conference (Mombasa, Kenya)
April 2018
Naomi Wright (Principal Investigator)
Association of Surgeons In Training (ASiT) Annual Conference (Edinburgh, Scotland)
April 2018
Mahmoud Elfiky (Regional Lead: Middle East, Country Lead: Egypt)
Colorado Children's Hospital: Meeting on Surgical Treatment of Colorectal Problems in Children (US)
April 2018

Dr Hetal Gohil (Country Lead for Kenya)
Kenyan National Paediatric Conference (Nairobi, Kenya)
May 2018
Naomi Wright (Principal Investigator)
InciSioN Global Surgery Symposium (Leuven, Belgium)
June 2018
Alliance Niyukuri (Regional Lead for West Africa and Country Lead for Burundi)
Gabonese Society of Paediatric Surgery Conference (Gabon, West Africa)
June 2018
Judith Lindert (Country Lead for Germany)
Global Surgery Symposium (Germany)
June 2018
Naomi Wright (Principal Investigator)
14th European Symposium on Congenital Anomalies (Ispra, Italy)
June 2018
Naomi Wright (Principal Investigator)
European Paediatric Surgeon's Association (EUPSA) International Congress (Paris, France)
July 2018
Naomi Wright (Principal investigator)
British Association of Paediatric Surgeons (BAPS) Annual Congress (Liverpool, UK)
July 2018
Gabriella Hyman (South Africa Junior Country Lead)
International Association of Student Surgical Societies (IASSS) and the Southern African Students' Surgical Societies (SASSS) Symposium: The Future of Surgery (Cape Town, South Africa)
July 2018
Dayang Anita Adbul Aziz (Regional Lead for ASEAN and Country Lead for Malaysia)
13th Congress of the ASEAN Society of Paediatric Surgeons (ASPS) (Pattaya, Thailand)
July 2018
Dr. Theophilus Teddy Kojo Anyomih (Collaborator from Ghana)
Extreme Affordability Conference, (Kpong, Ghana
August 2018
Gabriella Hyman (South Africa Junior Country Lead)
SAAPS (South African Association of Paediatric Surgeons) Conference (Pretoria, South Africa).
September 2018
Taiwo Lawal (Country Lead for Nigeria)
Association of Paediatric Surgeons of Nigeria (APSON) Conference (Kanu, Nigeria).
September 2018
Dr. Theophilus Teddy Kojo Anyomih (Collaborator from Ghana)
Medical Knowledge Fiesta (Accra, Ghana)
October 2018




Dr Azad Patel (Collaborator from Zambia)
The Society of Anaesthetists of Zambia 5th International Anaesthesia conference Program (Lusaka, Zambia)
October 2018




Dr Ddruv Ghosh (Country Lead for India)
Indian Paediatric Surgeons annual conference (Chandigarh, India)
November 2018
Professor Miliard Derbew (Regional Lead for COSECSA & Country Lead for Ethiopia)
Pan African Paediatric Surgery Association (PAPSA) Conference (Addis Ababa, Ethiopia)
November 2018
Osaid H. Alser (Co-Country lead for Palestine)
2nd International Meeting for Science for Palestine (New York, USA)
November 2018
Osaid H. Alser (Co-Country lead for Palestine)
Oxford Global Surgery Group (Oxford, UK)
February 2019
Dr. Ankit Raj (Collaborator, India)
MedInspire
(Mumbai, India)
April 2019
Naomi Wright (Principal investigator)
Anorectal Malformation Conference (Wokingham UK)
April 2019
Aayenah Yunus (UK collaborator)
London School of Hygiene and Tropical Medicine 5th annual Global Health day (London, UK)
Global PaedSurg Results Presentations
| Date | Presenter, Name (Affliation) | Conference (Country) |
| --- | --- | --- |
| January 2020 | Intisar Hisham (Kenyatta National Hospital, Nairobi) and Andile Dube (Zimbabwe) | Global Initiative for Children's Surgery (Johannesburg, South Africa) |
| February 18-20 2020 | Dr. Enaam Raboe (Saudi Arabia) | KFAFH 15th Neonatal Conference (Jeddah, Saudi Arabia) |
| September 16-19 2020 | Dr. Anke Rissman (Germany) | Annual Meeting of the German Society of Pediatrics and Adolescent Medicine (Germany) |
| September 17 2020 | Dr. Judith Lindert (Germany) | Annual Meeting of the German Society of Paediatric Surgery (Online) |
| September 25-26 2020 | Theophilus Teddy Kojo Anyomih (Ghana) | Medical Knowledge Fiesta (Online) |
| October 9-10 2020 | Dr. Mahmoud El Fiky | PAPSA Online Conference (Online) |
| October 15-17 2020 | Dr. Emrah Aydin (Turkey) | Turkish National Pediatrics Congress (Northern Cyprus) |
| October 8-11 2020 | Dr. Ampaipan Boonthai (Thailand) | Annual Scientific Congress of the Royal Collage Surgeon of Thailand (Online) |
| October 18-19 2020 | Dr. Emrah Aydin | Turkish National Congress of Pediatric Surgery (Ankara, Turkey) |
| December 3-5 2020 | Ali Yalçınkaya (Turkey) | Excellence in Pediatrics 12th Conference (Amsterdam, Netherlands) |
| December 4-6 2020 | Ali Yalçınkaya (Turkey) | 4th International Health Sciences Congress (Ankara, Turkey) |
| July 7-10 2021 | Dr. Naomi Wright (UK) | British Association of Paediatric Surgeons Congress 2021 (Online) |
We encourage collaborators to present the study locally, nationally and internationally. Initially the study concept can be presented to help raise awareness and to invite collaborators to participate in the study. Once the study is complete collaborators can present the results. Funding is not available through the study, but international conference organisations often provide scholarships for junior presenters and/or presenters from low- and middle-income countries. A reference can be provided in support of funding applications.
Please inform the principal investigator, Naomi Wright, on paedsurg.research@gmail.com if you wish to submit an abstract to present the study nationally or internationally. This is important to avoid duplicate submissions and to ensure all conference regulations are complied with.
A pre-prepared abstract, poster and PowerPoint presentation are available upon request.