Gastroschisis is a congenital anomaly where the baby is born with a hole in the abdominal wall through which the intestines protrude at birth.
This presents several challenges as the intestines are then vulnerable to damage and infection as well as heat and fluid loss. Prompt treatment is required to keep the baby hydrated and warm following delivery, to protect the bowel, and to transfer to a tertiary paediatric surgery centre as fast as possible. Once at the tertiary centre the intestines can be safely re-introduced into the abdomen over a number of days at the cotside using a silo without the need for general anaesthesia or an operating room.
In high-income countries, mortality associated with gastroschisis is less than 4%. However, in many tertiary paediatric surgery centres across sub-Saharan Africa (SSA), there is over 90% mortality for this condition.
Informed by the findings from PaedSurg Africa and current literature, an ongoing multi-centre interventional study now seeks to reduce mortality from gastroschisis across seven tertiary paediatric surgery centres in SSA through implementation of a low-technology interventional care bundle locally.
For educational and training purposes, principal investigator Naomi Wright has developed a series of short videos demonstrating the key components of the Gastroschisis Care Protocol used in the ongoing Gastroschisis Interventional Study.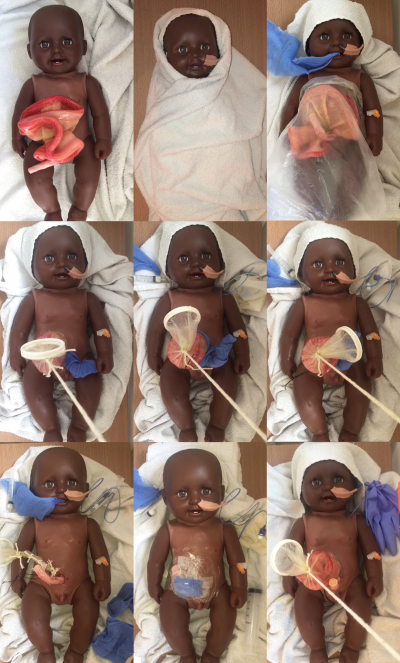 Video 1: Optimising care from birth to the tertiary paediatric surgery centre
Video 2: Resuscitation on arrival to the tertiary paediatric surgery centre
Video 3: Application of the preformed silo
Video 4: Tips and tricks for preformed silo use
Video 8: Establishing breastfeeding, dressing changes, discharge and follow-up
Video 9: Recognition and management of discoloured bowel in the silo
Examples of Gastroschisis Care Protocols