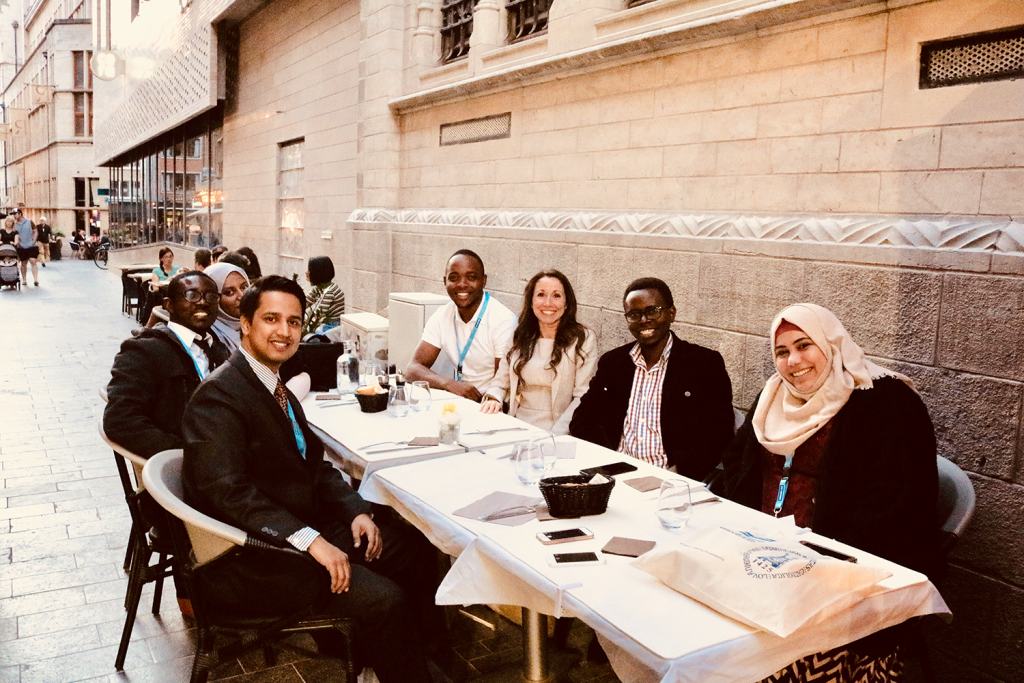 Miss Naomi Wright (third from the right) and Andile (centre) at the
InciSioN Global Surgery Symposium 
(Leuven, Belgium, May 2018) 
"While standing in the immigration queue, third from the front, I caught a glimpse of the Incision IGSS invitation letter head as I was gathering my documentation for the immigration officers. Suddenly, I realised, this was it. This was the product of months of anticipation on the work that would be done, the people I would meet, the endless wonder of whether or not I would match the great minds that had been unified by this conference in Leuven.  At the back of my mind, this was potentially the beginning of a new chapter furthering my passion for global surgery research however unsure in which field. Suddenly the urge and enthusiasm to travel and meet new people was condensed into a bucket load of 'what ifs'. I was to learn however, sitting at the corner of an adjoined rectangle dinner table with each person from a different country, that it was all worth it (pictured above). 
While listening to the talks delivered at the conference, my understanding of the possible impact that paediatric global surgery may have on prioritising care for children born with congenital anomalies was ignited. Through the beautiful process of inquiry that is research, it is very possible to improve management outcomes for children (especially in low income countries like my own) by raising awareness to the healthcare providers/ ministries of the need for intervention and how to focus on giving these affected children a greater start at life. As a medical student who only became more aware of this at the conference, I feel a great conviction to share this motivation specifically to medical students and doctors who are faced first hand by the congenital anomalies in study in their home countries. I am excited to be collaborating in the upcoming Global PaedSurg research!
Seated at the dinner table, I became part of a family that shared memories of the great work they have done under PaedSurg Africa, the GICS international travel experiences and other stories. I felt included in the future plans under Global PaedSurg. I have received guidance and support on how to get students and doctors from my home country involved. This is the research and advocacy family I (and any prospective researcher) would want to be a part of. I invite those with an interest in this field to join us!"
---
Andile Maqhawe Dube (4th Year Medical Student)
National University of Science and Technology, Bulawayo, Zimbabwe