This week, the Global PaedSurg team is very excited to announce a new venture by some of our Brazilian colleagues – PaedSurg Brazil.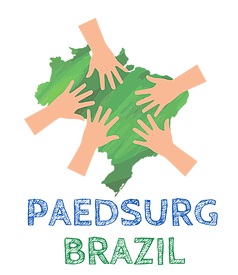 "PaedSurg Brazil is a research project about Congenital Malformation based on the Global Paedsurg project. The proposal is inspired by the research, "Management and Outcomes of Congenital Anomalies in Low-, Middle-, and High-Income countries" which we will reproduce with exclusive Brazilian centres to involve more hospitals and surgeons.

PaedSurg Brazil was created by 3 Brazilian paediatric surgeons from different cities who are collaborating on the project and intend to spread clinical research concepts throughout Brazil. In the near future we hope to develop more projects and support colleagues from the 5 different regions of the country.

The data collection will start on the 1st of August 2020 and will run for 1 year. All the Brazilan Paediatric surgeons are welcome to get involved in the data collection throughout the year. We currently have more than 70 centres participating and are planning to compare the results within Brazil and between a range of countries."
PaedSurg Brazil are now calling for fellow paediatric surgeons from Brazil to join them and spread the word to other healthcare professionals involved in the care of newborns requiring surgery. For the original Portuguese translation click
here
.
Each collaborator will be allocated an individual REDCap user ID to collect data and all collaborators who assist in the research will be co-authors for any publications originating from the data obtained.
To register your interest, please sign up
here
.
For more information, please head to their website or contact the team below.
---
"Prezado colega Cirurgião Pediátrico,
Gostaríamos de convidá-lo para integrar um trabalho multicêntrico na investigação das anomalias congênitas cirúrgicas mais frequentes em recém-nascidos em nosso território nacional. Usaremos os mesmos formulários e documentos da pesquisa multicêntrica mundial "Global PaedSurg Research Collaboration", mas dessa vez somente com centros brasileiros, por isso nossa iniciativa terá o nome "PaedSurg Brazil".
As malformações congênitas cirúrgicas investigadas serão: Atresia de Esôfago, Hérnia diafragmática Congênita, Atresia Intestinal, Gastrosquise, Onfalocele, Malformação Anorretal e Doença de Hirschsprung.
Precisamos alcançar o maior número de centros possíveis, nas mais diferentes localidades e realidades que nosso país apresenta. Sua ajuda é muito importante para criar um grupo de trabalho no seu hospital. Você tem liberdade para convidar outros profissionais do seu hospital, cirurgiões, pediatras, neonatologistas, anestesistas, enfermeiros, profissionais de saúde e/ou alunos de graduação que prestem assistência a recém-nascidos que necessitem de cirurgia.
Cada colaborar ganhará seu ID usuário individualizado no RedCap® para incluir os dados na plataforma da pesquisa. Os colaboradores que auxiliarem na pesquisa terão direito a autoria nas publicações originadas dos dados obtidos, para podermos organizar e proporcionar possibilidade a todos, limitaremos 2-3 colaboradores por mês em que houveram pacientes incluídos no trabalho, os colaboradores podem se repetir durante os meses em que participar ou revezar entre os colegas.
Contamos com sua colaboração e a participação do seu centro, precisamos ser o mais abrangente possível. Estamos a disposição nos contatos abaixo. Caso confirme seu interesse, você pode se inscrever através do preenchimento do formulário. "
Visite nosso site:  www.paedsurgbrazil.com
email: paedsurgbrazil@gmail.com
Atenciosamente,
Camila Fachin (camilafachin@gmail.com ; cel: (41) 991130405)
Eduardo Corrêa Costa (eccosta@hcpa.edu.br ; cel: (51) 993321109)
Marcia Matias (mamatias90@gmail.com ; cel: (21) 999846575)